Blog Details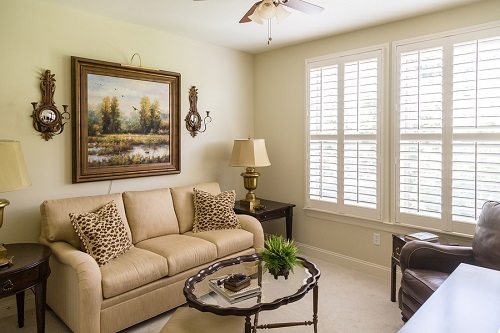 Plantation Shutters
Comparing Basswood and PVC Plantation Shutters
Plantation shutters are an elegant and stylish addition to any home. They are a good investment for a variety of reasons, including their timeless and highly sought after style.
Plantation shutters are traditionally designed with wide louvres or slats that can be adjusted to let in more or less light. Nowadays, you can have the slats made to any size and you can even design them with a divider rail to give you even more control.
Plantation shutters are also incredibly functional and flexible. They can be manufactured out of timber or PVC, both of which have their own benefits. We'll compare the two shutter materials below to determine how they can best be used in your home.
Basswood plantation shutters provide a lovely, warm and natural look that only real timber can offer. Basswood, in particular, comes from the Tilia family of wood – it has an incredibly attractive and fine texture that will add a very nice aesthetic to any home. Basswood shutters are ideal for most interior rooms including the living room, dining room, bedroom and other relaxation areas.
Many people choose basswood shutters because they are known for their long product lives. This type of wood is extremely strong and durable. A Polyurethane paint can also be added as a finishing treatment to make it scratch resistant (this would perfectly match a white or cream-coloured room).
Timber plantation shutters are also available in many different painted colours to suit your home's style and décor. Alternatively, you could enhance the lovely quality of the wood by staining the timber in anything from deep walnut to a vibrant cherry oak.
PVC, or Polyvinyl chloride, is a man-made synthetic plastic that is used in many different forms of building. When used to make plantation shutters, it brings absolute functionality without sacrificing on appearance or style.
PVC shutters in Australia are very strong and durable. They are also made with an aluminium core, which only adds to their overall strength. PVC shutters are moisture resistant and will not degrade even in the harshest Australian weather. This makes them a good choice not only for the windows in your kitchen, bathroom and laundry but also as exterior window coverings. In addition, PVC shutters possess great insulation properties, helping you control the light and heat that enters your home from the sun. This will have a direct impact when it comes to your air conditioning bills during those hot summer days.
As well as all of their great practical qualities, PVC plantation shutters don't sacrifice on aesthetics. While they don't possess the same look as wood, they can be painted to match your home's interior.
Both basswood and PVC plantation shutters have their benefits for different applications. For more information on each of these products, get in touch with EcoShade Solutions in Sydney today.