Blog Details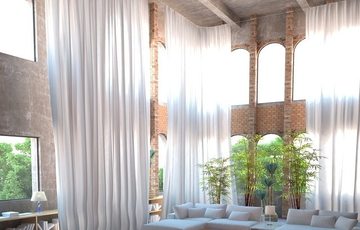 Curtains
Top 4 Trends To Watch in Curtain Window Dressing
With more than 10 years experience in the window dressing industry, the team at EcoShade Solutions keeps a watchful eye on innovative new styles and trends.
Here is a quick snapshot to help with your home renovation or commercial fit-out project.
Combination treatments using curtains and blinds to combine function and style
Rooms accented by blinds with strong colour bursts
Retro floral print is back
Long and wide draping techniques to add a perception of depth and height
Sheer fabric choices to maximise light and convey contemporary elegance
Here are our 4 top curtain trends for this season
Use of floral prints and strong colour bursts to accent a room
Nothing livens up a room like a colour contrast. If you have a space that's styled in soft, cool colours like blue or brown, consider warmer palettes of orange, yellow, or red for a refreshing surge of energy. View our gallery to see more curtains and blinds with a pop of colour.
A single colour palette
The architecture of many Sydney apartments, urban home and office renovations is now focused on a simplified colour scheme, generally nominating one central colour and styling walls, carpets and home furnishing in tones of the principal tint. This approach offers a cohesive flow of space and light for open plan rooms and properties with smaller floor plans.
Drapery from ceiling-to-floor and wall-to-wall
For a complete blackout of your media room or bedroom, we see a trend to extend the height and width of blinds and drapes to completely cover the window area and walls.  It is a practical solution to the room's purpose and also energy smart.
Styles incorporating sheer fabrics and blinds for ultimate style and function
Sheer curtains are an ideal window furnishing for any apartment, renovation or new home project. This fabric choice can be installed as well as a roller or roman blind for ultimate style and function.
EcoShade Solutions has consultants on hand to help you with your home project or commercial fit-out. Get free professional advice and a complimentary measure and quote.  Book your consultation here.
Related Tags: Shutters Australia