Blog Details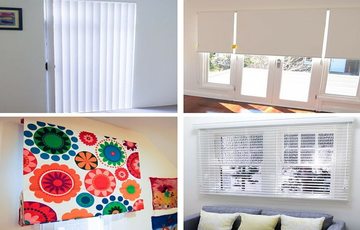 Blinds
Window Blinds – What are my options?
EcoShade Solutions would like to share our knowledge and expertise on why there are different blinds on the market today and to help you save time by choosing the right blind for your project and budget.
So it's time to start planning for your new window shades. You might be renovating your home in the inner Sydney suburbs or moving into your new apartment downtown.  Let's compare four of our most popular blinds. You can also view our gallery.
Roman Blinds versus Roller Blinds
Roman blinds are the interior designer's first choice for a high-end luxurious window treatment.  These blinds operate in a "pull up" to the top of the window manner sitting flush on the window frame. The panels fold neatly and the amount of light is managed by securing the panel using a rope tie to the side of the window.
Roman blinds use softer exclusive fabrics and this gives you the option of a contemporary chic fabric choice to make your room pop with a burst of colour or to unify your interior styling, perhaps choosing a fabric in similar tones to the whole room.
Privacy and light filtering is manually controlled by the pull up function and romans blinds are so versatile that they can be installed in almost every room.
Your own personal aesthetic is realised by your choice of contemporary or more traditional fabrics and pattterns.  EcoShade Solutions sources the latest in Australian & European fabrics to bring you the best fabrics in the market.
As an alternative to roman blinds, clients also appreciate roller blinds for their simplicity and elegance.  These blinds operate from the top of the window frame and rollers are installed to sit neatly inside or outside the window reveal.
For an ultra-contemporary and functional system we can double the roller blinds on each window to create a dual system.  An example would be when a blackout roller blind is layered with a second roller blind constructed of translucent/screen fabric.  With this set-up you can maximise the light control during the day and secure complete privacy and no light when required.  Perfect for bedrooms and entertaining areas you may hear of these blinds referred to as a night and day system.
Three Types of Interior Roller Blinds 
Interior roller blinds are classified into three types primarily based on light control, privacy and shade.
Blackout Roller Blinds— for near complete light control and complete privacy — great for bedrooms.
Sunscreen Roller Blinds — also known as shade or mesh blinds — excellent for the double roller system to block out light and minimise heat and light as required without losing your view  – great for living areas.
Translucent Roller Blinds— provides more privacy but it does not block out the light so translucent fabrics work well with blackout blinds to create the dual roller system.
Motorised Blinds
As a great option we have a wide range of motorized blind options. Great for ease of use and child safety (as there are no cords/chains) motorized blinds are not as expensive as you may think. We have chosen some of the best value but most contemporary and long lasting motors and also offer battery and solar powered versions.
Now let's review the alternative blinds— the Venetian and the vertical blind.
Venetian Blinds versus Vertical Blinds
A venetian blind is constructed by a series of horizontal slats held together with a sliding ladder system so that any homeowner can move them up or down with a simple cord.
Three Types of Venetian Blinds
Timber look Venetian blind—classic favourite proven to be practical and durable for Australian climate conditions.
Aluminium Venetian blind— now in a huge range of colours to compliment your decor and style.
Cedar Venetian blind— offer a timeless elegance and longevity based on the durable qualities of cedar wood.
Vertical blinds are similar to the Venetian style, except that their slats run vertically instead of top to bottom.  Controlled by a chain, cord or child safe wand, vertical blinds are easier to manoeuvre and collect less dust because of their upright position.
There is a complete range of colours from vibrant to soft pastels to compliment any interior scheme.  Vertical blinds are an excellent choice for privacy and light control as well as the opportunity to regulate a room's temperature. You can view our gallery here.
Although today's interior blinds and shades vary in style, form and function, what they do have in common is the stamp of proudly Australian-Made with premium materials manufactured for best value pricing and with a no fuss installation.
Every blind comes with a 2-year product warranty and EcoShade Solutions offer a FREE in-home consultation and installation services further helping you save more and worry less. You can book your consultation online here.