Blog Details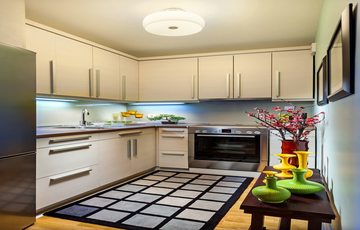 Blinds
6 Need to Know Ways to Make Small Rooms Look Bigger
Sometimes living in more trendy, inner city suburbs can mean sacrificing space in favour of location.
In highly liveable cities such as Sydney and Melbourne young professionals quite often end up occupying smaller units, townhouses and apartments.
These dwellings can sometimes feel a bit cramped. However, there are a few useful interior design tips that can help create a sense of space and room in your place.
Let's take a look at six of them.
Downsize
This doesn't necessarily mean getting rid of all your worldly possessions. Rather, consider the size of the furniture and décor that you already have in your place. How big is it when compared to the rest of the room? If you have a huge dining table taking up space in a smaller open plan kitchen and dining room, consider putting it in storage and opting for a smaller table. A good rule of thumb is to check if any piece of furniture is touching the boundaries of your room – if it is, consider a smaller option.
Let the Light In
Natural air and light is a great way to create a sense of open space – and as a bonus you get a daily dose of vitamin D and some fresh air! You should consider how much light your current window coverings let in – if your curtains are strangling the amount of sun that shines on your home perhaps consider switching to some plantation shutters. This idea also operates on a psychological level. Even if your curtains don't cover the entire window they can make you perceive less of the view from outside, causing you to think that there is less space in the room. Consider some shutters that will better allow those warm rays of light to open up your space.
Mirror Imagery 
Mirrors reflect both light, and the view of the room. Hanging a mirror in a smaller space is a neat little design trick that will create the illusion of more space than there actually is. 
Match Your Drapery 
One way to avoid contrast in a room (and therefore create more sense of space) is to ensure that your curtains, drapes or roller blinds closely match the colour of your walls. This consistency in your colour palette will really open up your rooms.
Raise Your Legs
Couches and armchairs that sit raised up on legs help to create a sense of air and space in your living room.
De-Clutter
While you're in the room-making space try to de-clutter as much as possible. A neat and tidy space gives the impression of being larger than it actually is!
Hopefully these tips can help you to make a bit more room in your dwelling! Can you think of any others?