Blog Details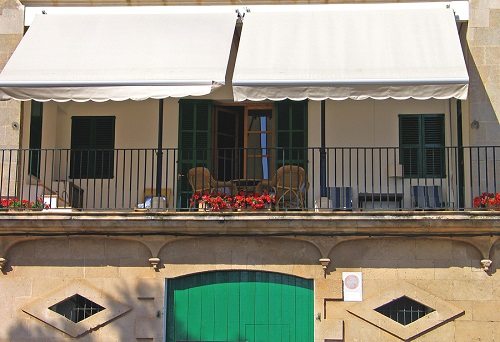 Awnings
Awning of a New Age
There's nothing more beautiful than an Australian summer and the sun it provides. To enhance your outdoor entertainment this summer, consider investing in some modern awnings. Gone are the days of frilly fabrics that partially shade you from the sun's harmful rays and relying on umbrellas is a thing of the past. This is the awning of a new age and if you want your outdoor lifestyle to match the modernity of your home's décor, it's time to cover up with some innovation.
Not sure where to start? We'll give you some options for different styles of awnings, as well as a checklist to help you choose a reputable manufacturer.
Provide Shelter without Sacrificing Design
Awnings are the hottest new accessory for your exterior home décor. They feature innovative new materials, technologically advanced systems and styles to suit a range of areas. Whether you want to cover your outdoor dining area or give a bit of extra shade to your veranda, an awning is ideal.
Drop Arm Awnings
Drop arm awnings are made to withstand high winds and adverse weather, perfect for those who live near the water in Sydney. These awnings operate by using concealed springs in the arms to extend outwards and you also have the option of motorising the operation. Controlling harsh sun conditions and heat is as easy as pushing a button.
Many people choose drop arm awnings to provide optional cover for outdoor seating or dining areas. As they open, they create a larger area between the awning and the window. This makes opening your space and creating better air flow easy.
Straight Drop Awnings
Constructed with powder coated aluminium and stainless steel components, straight drop awnings have a natural resistance to corrosion and rust. With all these features, they are practically tailor-made to withstand Australian conditions.
Straight drop awnings are best used to enclose gazebos, verandas, balconies and other outdoor living areas. They'll give you privacy and protection from the weather while providing enough light, visibility and ventilation to enjoy the sun, not suffer in it.
Folding Arm Awnings
Another traditional awning style, the folding arm variety is made with strong fabrics and more innovation. Perfect for sun protection for patios, decks and verandas, these coverings provide shade when you want it. Folding arm awnings can either be opened manually or motorised. When closed, they retract into a neat cassette mounted on the wall. You can even add wind and rain sensors to provide automatic protection if you aren't home to retract the awning during a storm.
Choose Australian Made
Living in Australia means you need to choose products that are made to handle our unique conditions. Awnings are proven to be energy efficient because they reduce cooling costs and protect your internal furnishings from direct sun damage. However, this is only true if you go with the right products that can withstand pressure from UV lights as well as the harsh Australian elements.
People who live in Sydney have to be practical about protecting against the sun and heat but that doesn't mean they should give up on style, innovation and responsible manufacturing. An Australian company that manufactures Australian-made products is bound by national manufacturing standards, giving you products you can truly trust.
For your modern and efficient outdoor awnings, get in touch with EcoShade Solutions in Sydney today.